Hello! Nice to meet you...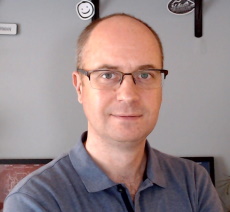 ...I'm Eli!
I'm not really sure what to call myself these days, product developer is probably the most accurate.
I've led engineering at 3 startups, managed for a fourth, attempted to start my own, co-founded a reasonably popular tech blog, and mentored folks on leadership, management, development, QA automation, and more. I've led projects and diving saves, a business rebranding, incident response, user training, and more.
My background started as a software developer, but along the way I also got interested in usability, test and delivery automation, agile, lean manufacturing and the philosophies behind it, product strategy, customer success, project management, and anything else that would help us more successfully build great products for wonderful people (who would then pay us and hopefully turn into brand ambassadors).
Most of my posts reflect my technology interests, either as I smooth out the rough edges of something I'm using day-to-day or as I dig into something on my exceedlingly long hobby list.
Some Favorite Books
Check out the Reading List for the books I recommend the most frequently.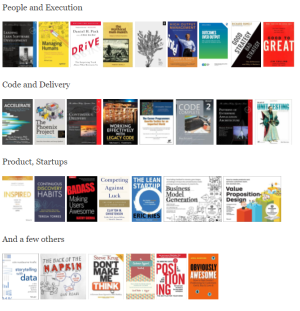 Some Memorable Quotes
I've been lucky to work in a lot of different environments and I try to read a lot, here are selected quotes that have shaped my thinking:
"Never mistake activity for achievement." - John Wooden
"Revenue is like oxygen - you need it in order to live but it isn't what you live for"
"If it hurts, do it more" - Jez Humble
"Source code is not the product, the product is the experience the customer receives" - James Bach
"If you haven't found a market to sell it in, you haven't innovated" - Eugene Gordon
"You intend to give these workers the right to stop the line?"" they asked. Toyota's answer: "No, we intend to give them the obligation to stop it whenever they find a problem."